What is a DB-Key?
The DB-Key is a code that uniquely identifies your particular simulator and/or computer. During your purchase, must provide your simulator's DB-Key so we can deliver a database that is compatible with your particular computer.
The NavUpdate program is the easiest way to find your DB-Key and purchase a subscription for RealNav Data. This program is automatically installed with most produtcts and full size flight simulators that are compatible with RealNav Data. You can launch NavUpdate by finding it in the Windows Start menu, or for some professional simulators, there will be a link right on the simulator's main screen. (See Example for Redbird Simulators.)
When you launch NavUpdate, the screen shown below will appear. Click the button labeled "Renew" or "Purchase" to launch the RealNav website where your DB-KEy will be automatically filled in.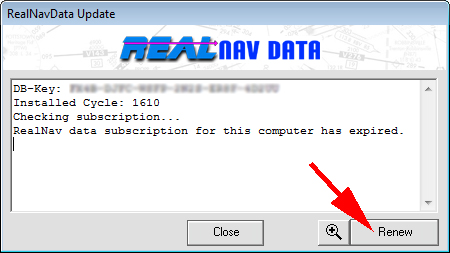 Enter your credit card and relevant purchase information, then click the submit button to process your payment.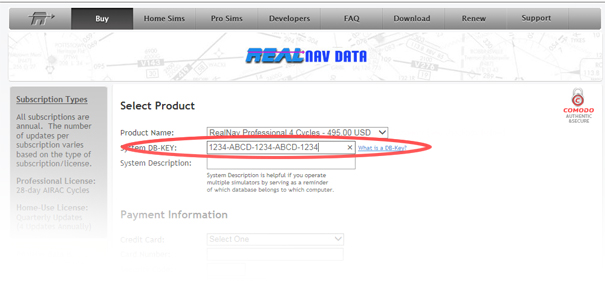 Once you come back to NavUpdate, it will have an extra button titled "Check Again". Clicking that button will check the RealNav server to validate that you completed your purchase on the website, and immeidately start downloading and installing the new RealNav database.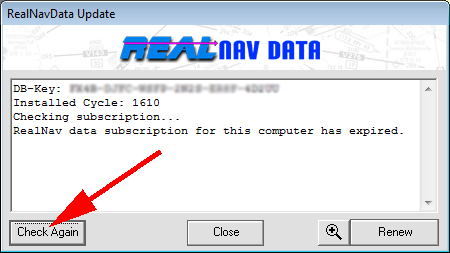 What If My Flight Simulator Computer Doesn't Have an Internet Connection?
You should still use NavUpdate to obtain your DB-Key. It's always shown at the top of the message window, as shown below. The magnifying glass button near the bottom of the screen can be used to magnify the DB-Key (warning, it magnifies BIG!)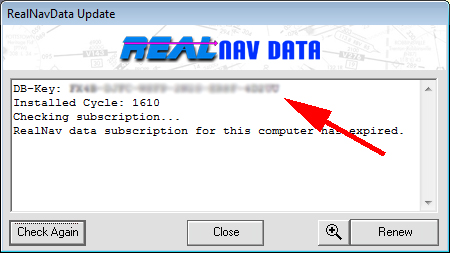 You can complete your purchase on the RealNav website by inputting the DB-Key into the purchase page. After your purchase you can download the database manually from the manual download page's "Alternate Instructions".
*If* You Absolutely Must Write Down Your DB-Key...
It is particularly important that you properly distinguish between the number 0 and the letter O, the number 1 and the letter L, and the letter B versus the number 8. This why it's easiest to use NavUpdate's Purchase or Renew button to initiate the transaction. You can also highlight the DB-Key in the NavUpdate window and press CTRL+C to copy it to the clipboard, then press CTRL+V to paste it elsewhere if you really need to. The magnified view will somewhat help you distinguish between similar-looking characters.
Failure to provide the proper sequence of numbers and letters of the DB-Key, including all the dashes, will result in a database that is incompatible with your system.